"Q" signals  9 weeks to 2015.  
Just one thing this week: "Q" is for QUIT.  What can you QUIT? 
Quitting gets mixed reviews.  We're applauded as quitters when it's smoking or junk food – criticized if we drop a project, jump jobs, or give up our exercise routines.
Good results can come from quitting – a valuable life skill:
– Quit selected magazine/newspaper subscriptions, apps, websites, emails, feeds, devices, channels, screens – whatever serves you poorly.
– Quit pointless prescriptions, liquids, solids, gels, and powders. Wish I had the money back from all those potions and pills I bought to soften my lips and guarantee better health.  Where were you then,  lemon juice?! Try to let food [plus exercise] be thy medicine.
– Quit memberships, affiliations, relationships, friendships where value is questionable or reciprocity isn't balanced. Find fewer, alternate recipients for love, time, and attention.
– Quit planning your list of shoulds. Books to read, tangible gifts to give, places to go, traditions to uphold, so-so movies. Let what really matters rise to the surface – and leave old notions behind – or you'll congeal Katherine Hepburn said. Especially quit someone else's shoulds. Static planning can be over-rated.
– Quit worrying. Mark Twain – or Seneca or Thomas Jefferson (source controversial) said: I am an old man and have known a great many troubles, but most of them never happened.  Cut back even 5% on worrying, and you'll have more mental peace.
– Quit mindless habits. I must quit drinking water as late as 11:00 p.m. – or lower my chances of uninterrupted sleep. This is silly, but about 5 years ago I switched putting on my bra from front to back hooking. Such a mundane thing now saves a bra and works my arms. We all know about mindless eating. Oy.
MORE "Q"s:
Quinoa is Queen – This sublimely fluffy, deep, quick, tasty treat  is favored by gluten intolerants, vegans, and vegetarians, as well as animal eaters, and is now served in the finest restaurants.  Try this recipe from ChicVegan's website.  And look how simple the recipe is!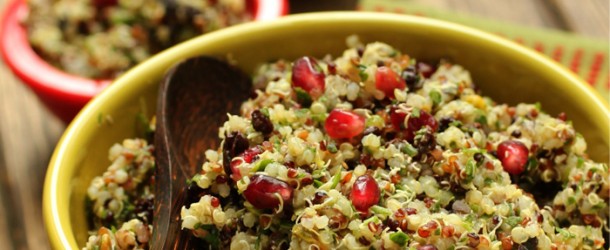 Question – Question everything. Ask Who said?!…Why am I doing this?  How many are sorry they didn't question Bernie Madoff?
Quick fix – Smart substitutions work. A 15 minute meeting for the usual hour can accomplish more; a 3-line email for a monthly report can do the job; an empty wall instead of heavy art; bicycle or bus if your car won't start – or don't go at all; a box and a marker when your child's toy breaks; and on and on.
Quiet – Thanks Anita for your suggestion of Quiet. "Be still" our mother used to say to us 4 little squirmy brats. Quiet gives good space.
"R" rocks next week. Join the fun of  SimpleSizing by year-end!